I'm de-guitaring myself as much as possible so in the end all I should have is my guyatone and a jagstang. Essentially too much gear and not enough playing and Doog has inspired me to get back to the point of owning a guitar which is to play it.
I got this JS from Greenknee in a trade and despite it's oddball nature I find it immensly playable and pick it up all the time, mainly for the neck. The neck pup sounds DREADFUL and thin. The bridge sounds fine enough to my heathen ears. Now I need to get this up to scratch for various reasons as I intend for it to be my joint main guitar for the foreseeable. Issues are:
Tone pot does not work
Nut is snapped and glued back in
I don't like pure white pearloid
Shit neck pup.
No shielding
No ground wire to output!
I also want to give this guitar a slightly classic 50's / 60's japanese guitar look as it seems to have more in common with those types of guitars. Fiesta red, mint guard (aged) with all chrome pup covers...
Chrome inspired by member Mister Neutrons JS: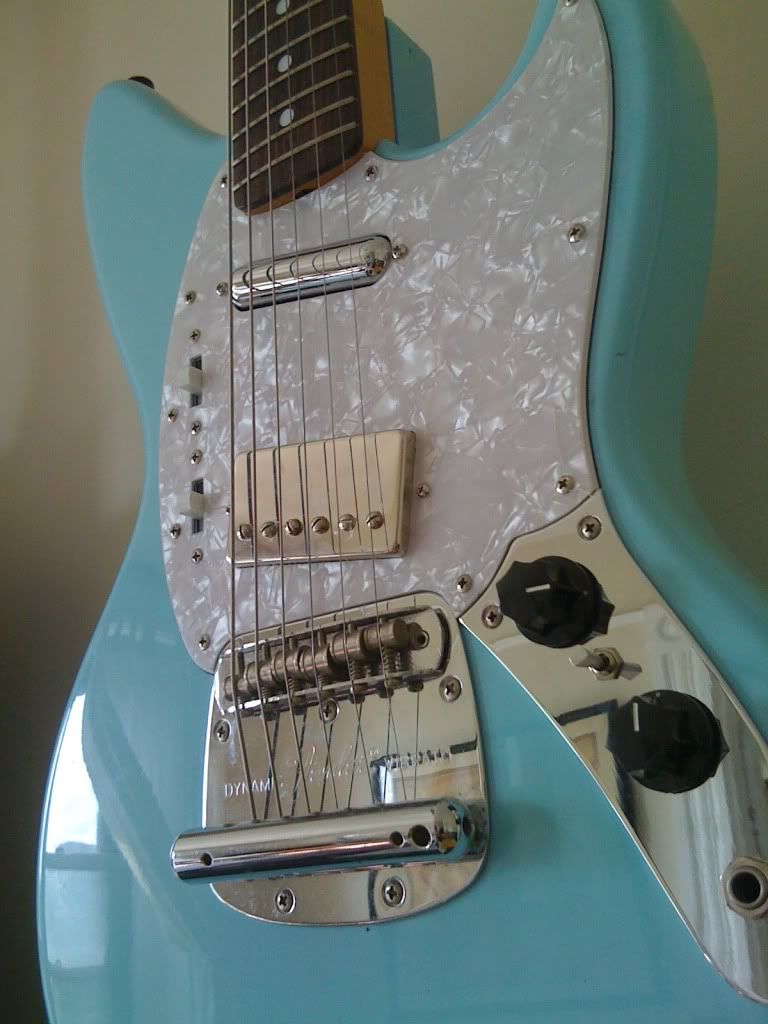 So the mods I'm going to do are based on what I already have where possible to save money.
Replace and carve nut from Tusq - possibly aluminium
Mint 3 ply guard aged with shellac
White Button Klusons
swap the bridge pup for an old 70's KT10 (Distortion 2 type) and attach a chrome cover to it.
Swap the neck pup for a chrome covered GFS lipstick (8 k or so...should roughly match the HB)
Swap out the pots for CTS pots I already have
Orange drop Cap installed
Add grounding and shielding
Lower swithes with washers
Lastly I'm toying with a more practical switch for the pups but do not want to rout for a toggly on the lower horn - ideas?
Shopping list then is:
Shielding
Wire
HB Chrome cover
Mint Guard
GFS Chrome lipstick
Not too bad cost wise I think
Here's a visual test for the Mint guard (squint a bit and you'll see)